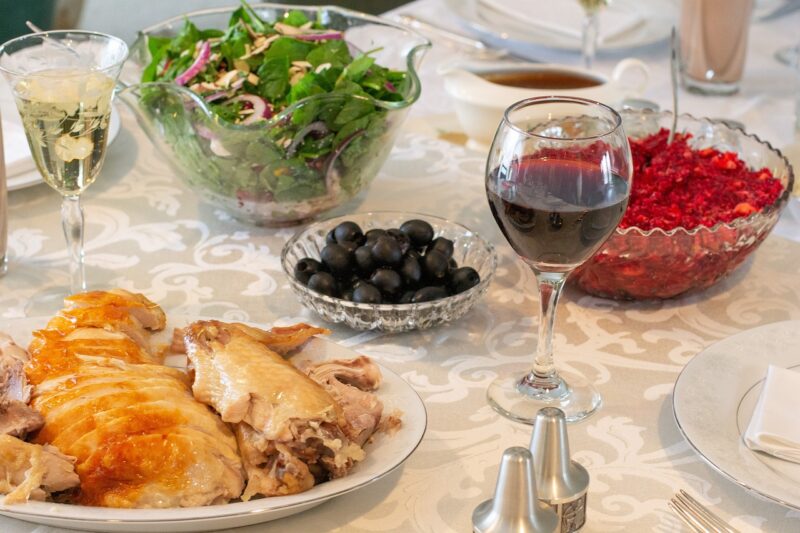 20 Nov

Add These Wrinkle-Fighting Foods to Your Thanksgiving Dinner

If you want to have clear skin, then you need to maintain a healthy lifestyle. Eating a proper diet is crucial and is the basis of good health. However, this can be difficult during the holidays, especially during Thanksgiving. Many of the foods we eat can be bad for our waistline and skin, especially since certain foods can accelerate the signs of aging. To avoid this, you need to know what wrinkle-fighting foods are good for your skin so you can add more to your daily diet. However, since Thanksgiving is around the bend, adding these wrinkle-fighting foods for Thanksgiving dinner is a great way to start!
Wrinkle-Fighting Foods for Thanksgiving: What to Add to the Menu
1. When it comes to Thanksgiving, turkey is a staple found on many dinner tables. Turkey is rich in vitamin B, which can help prevent fine lines and wrinkles and improve skin tone. Turkey is also high in zinc, which is essential for collagen production. Collagen is needed if you want healthy skin since it helps strengthen your nails, skin, and hair.
2. Spinach (or any Leafy Green Vegetables): Having a salad is always a good diet choice and is a must this Thanksgiving. Eating greens, such as spinach, is a great way to protect your health and skin. Leafy greens contain lutein, an essential antioxidant that helps maintain skin hydration and elasticity.
3. When having a salad, be sure to add some tomatoes. Tomatoes are delicious and are high in antioxidants and lycopene, both of which are needed for healthy skin. Eating tomatoes is a better choice if you often take vitamin E supplements for your skin since the high lycopene content can help your skin stay healthy while preventing texture changes, skin discoloration, fine lines, and wrinkles.
4. You might not have heard of goji berries, but they can be added to a salad or eaten solo as dessert (or with dessert). Goji berries are a powerhouse treat, rich in vitamin C, which can help fight free radicals that damage our skin. The vitamin C content in goji berries is high and has been found to contain 500 times more vitamin C per ounce than what you receive from eating oranges. Goji berries are also rich in antioxidants such as vitamins B1, B2, B6, E, and linoleic acid, which can help plump up the skin making it look younger and smoother.
5. Flaxseeds can be used in a variety of dishes. They can be added to salads or used as a topping for homemade bread. Also, if you prefer to avoid using eggs in your recipes, flaxseed makes an excellent egg replacement for baking. Flaxseeds are rich in Omega 3 and 6 fatty acids, which are necessary for healthy-looking skin. Omega 3 and 6 fatty acids can also help improve hydration, regulate oil production, prevent breakouts, and even help minimize aging signs.
While we offer non-surgical and surgical procedures to help make you look your best, everything starts with health and what you put into your body. So keep these foods in mind this Thanksgiving and beyond to help add balance to your skin.