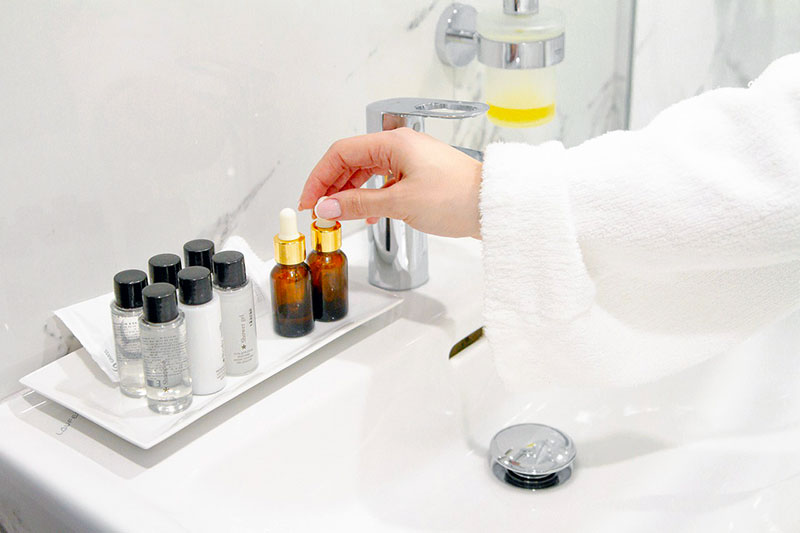 19 Jul

Does the Order of Skincare Products Matter?

Did you know that the order that you apply your skincare products matters? Using the correct order of skincare products will allow you to reap the full benefits of each product and will let you see the best results. When it comes to your skin, having a skincare routine is essential, especially if you want healthy-looking, vibrant skin. While it is always important to figure out what works best for your skin, knowing what to apply first and what goes on top of what can help you achieve your skincare goals. Generally, you will want to use products with the thinnest consistency first (liquid-based) to the thickest (cream based), but following this helpful skincare routine guide will also help give you the results you desire.
What is the Correct Order of Skincare Products?
Cleanser- Before you do anything, you need to wash your face. Use a gentle facial cleanser that is designed for your skin type, and gently pat dry.
Toner- Use a toner to address your unique skin concerns, especially if you use harsh soaps. Using a toner after you wash your face can help remove any leftover grime and dirt from your pores.
Serums- Serums are generally concentrated and nutrient dense. Using a good antioxidant serum during the day is a great way to help neutralize UV damage and can help protect your skin from environmental pollutants.
Eye Cream- Applying eye cream, especially one with SPF properties, can help maintain the health and thickness of the skin on your eyelids. An eye cream can help keep the skin around the eyes elastic and can improve fine lines and wrinkles.
Spot Treatment- If you need to use acne spot treatments or any other type of prescription skin medication, now is the time to apply it. However, make sure you read the product packaging to learn how to use it properly. Avoid putting anything else on your skin for 1 to 3 hours after application.
Moisturizer- Hydration is vital, especially as you age or in extreme weather conditions, where your skin can be zapped of its natural moisture. If you used a spot treatment on your skin, wait before you apply or skip the applied areas. Otherwise, the best time to apply your moisturizer is while your skin is still damp, so apply shortly after cleaning your skin.
Sunscreen- Unless the products you previously applied have sunscreen in them, apply a mineral sunscreen to help block out harmful UV rays. Avoid using chemical sunscreens, which will not properly absorb into your skin after applying the previously mentioned skincare products.
The order is similar at night, but instead of applying your serum before eye cream, apply your eye cream before your treatment serum. Then follow up with a moisturizer or night cream.