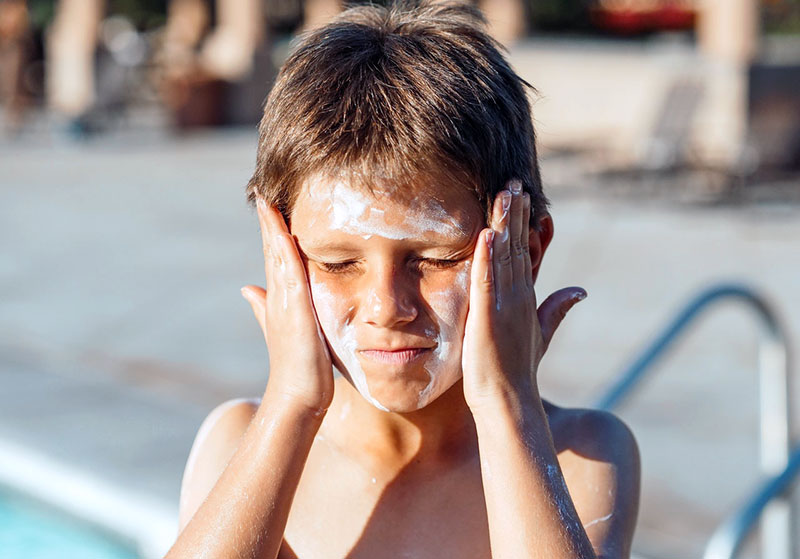 30 Jun

Facial Sunscreen Tips: How to Properly Apply Sunscreen to Your Face

With the summer sun heating things up, now more than ever, it is crucial to apply sunscreen every time you spend time outdoors in the sun. While sunscreen should still be applied during the fall and winter months, once the weather warms up, a person is likely to spend more time outside. Plus, the summer sun can be brutal and intense. If you leave your skin unprotected, it can cause premature aging and can increase your chances of developing skin cancer. Applying sunscreen to your face every time you go outside is crucial, mainly since your face receives a lot of sun exposure. However, there are some facial sunscreen tips you should know before you head outside.
Facial Sunscreen Tips: Applying Sunscreen to Your Face
#1. Before applying any sunscreen to your face, make sure you choose a sunscreen ideal for your face. Look for a broad-spectrum sunscreen that is SPF 30 or higher and is zinc-oxide-based. Otherwise, you will have a whitish-looking film plastered on your face. Also, in order to help prevent clogged pores, look for a sunscreen that is formulated for sensitive or acne-prone skin.
#2. You should always apply sunscreen 30 minutes before you head outside, but before you use it, wash your face. Makeup and oil left on your face could prevent the sunscreen from "sticking," so wash your face and pat dry before you apply sunscreen to your face.
#3. Making sure you don't under, or over-apply is crucial. Underapplying can leave you susceptible to sunburns, while overapplying can irritate your face and waste your money. Generally, you only need about a nickel-sized dollop to apply to your face.
#4. Don't just apply sunscreen to your forehead, nose, chin, and cheeks. Applying sunscreen to the sensitive areas also needs to be done. All areas of exposed skin need extra attention, not just on your face. So don't forget to apply sunscreen to the front and back of your neck, the top of your ears, and your chest, back, and shoulders.
#5. If you wear makeup, you can purchase a foundation that offers SPF protection from the intense summer sun. Otherwise, if you don't have makeup with SPF protection, apply your sunscreen first, let it sink in, and then apply your makeup over the sunscreen.