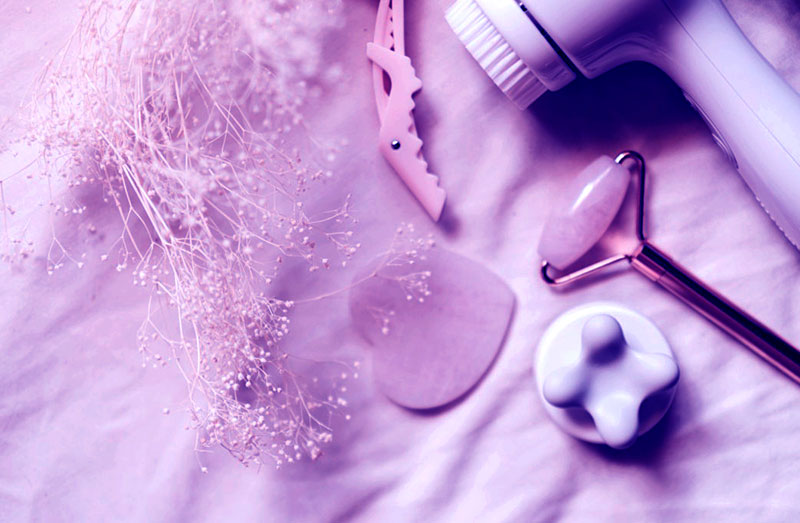 31 Jan

5 Skincare Tools to Try in 2022

The beginning of the New Year is the perfect time to set goals or resolutions for the year ahead. Concentrating on your skincare routine is a great place to start if improved self-care is on your list. Having a skincare routine is a must if you are looking to improve your appearance, but oils and over-the-counter skin care products can only take you so far. Your outward appearance can affect the way you feel, inside and out. Using skincare tools can jumpstart your routine and help you look and feel your best. If you are looking for the perfect gift or desire to improve your skin's appearance, enhance your skincare routine with these helpful skincare tools.
Pamper Yourself: The Best Skincare Tools to Try in 2022
#1 Facial Cleansing Brush by Olay Regenerist 
Dermatologists designed and safe for everyday use, this affordable water-resistant 2-speed brush is excellent for daily deep cleansing and exfoliation of the skin. This Olay Facial Cleansing Brush can safely remove dead skin cells and maximize moisturizers' effectiveness and other skincare products.
#2 Kate Eve Rose Quartz Roller and Gua Sha Set 
If you are looking to de-puff, firm, and lift your skin naturally, then you need to add this rose quartz face roller and Gua Sha to your beauty arsenal. Facial rollers are excellent at reducing fine lines and wrinkles, naturally lifting and firming the skin, and reducing black circles under the eyes. The included Gua Sha tool can help assist lymphatic drainage, smooth fine lines, and wrinkles and can naturally reduce inflammation and swelling.
#3 Vanity Planet Aira Ionic Facial Steamer 
The perfect at-home machine for a facial detox, the Vanity Planet facial steamer deeply cleans the skin, all while improving blood circulation and adding some much-needed moisture. Removing impurities and dead skin cells, this facial steamer will clean your pores and can make your skin more receptive to other skincare treatments. This tool is safe for all skin types and is a must-have for your beauty and skincare arsenal.
#4 Vanity Planet Microdermabrasion Wand 
Are you looking to reduce the appearance of hyperpigmentation and fine lines? Then the Vanity Planet Microdermabrasion Wand is for you. A simple way to exfoliate the skin and clear away dead skin cells. This helpful skincare tool only takes a few minutes to cleaner, clearer skin as it sucks away impurities that can cause breakouts, blackheads, and inflammation.
#5 Project E Beauty Red & Blue LED Light Wand 
You may not realize this, but light therapy can help improve your skin. This helpful skincare device combines red and blue LEDs to enhance the look and feel of your skin. Red and blue light treatment can help boost collagen production and beautify your skin's complexion. Red light therapy can help stimulate new skin cell production and increase blood circulation. While blue light therapy is excellent at fending off acne and fighting eczema.
In addition to these helpful skincare tools, non-surgical treatment methods are available to help improve your overall appearance. Here at the NY Facial Plastic Surgery Center, we offer non-surgical, effective cosmetic procedures to help you look and feel your best. For more information or to schedule a consultation, contact us today!