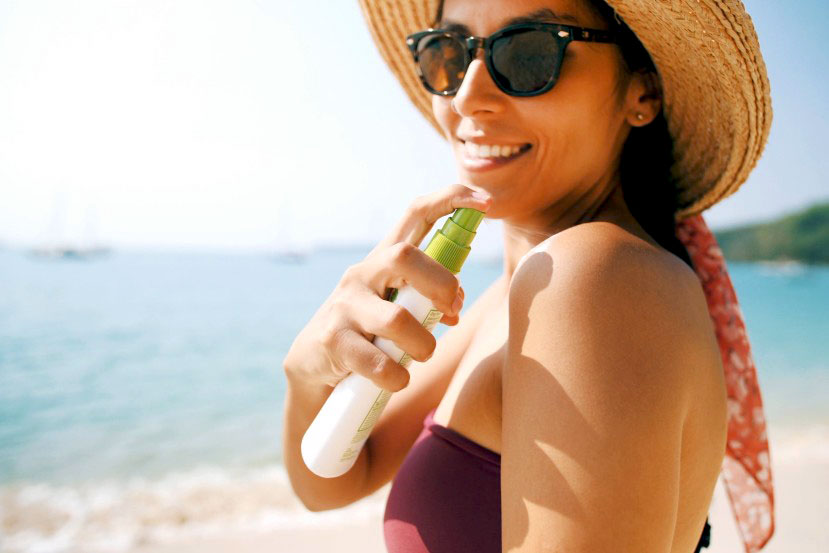 29 Jul

5 Beach Skincare Tips for a Healthy Summer Glow

Spending time in the sun and the surf is something that many of us can't get enough of. There's a lot to be said about spending the day on the beach, listening to the sounds of the ocean, and feeling the salty air blow through your hair and across your skin. While the wind, sun, and surf can make for a relaxing day at the beach, they can have a negative effect on your complexion and the health of your skin. However, following a skincare routine on your beach days can help keep your skin happy and go a long way in preventing long-term skin issues, and our beach skincare tips below can help!

Environmental conditions can be stressful to the skin and can even ruin your complexion. But it doesn't have to be this way. When you are planning to spend the day in the sun, sand, and surf, set your skin up for success by following these helpful beach skincare tips.
1. Proper hydration is necessary when you are spending the day in the sun, especially since being exposed to the elements can be extremely drying. When possible, start hydrating the day before your time at the beach to give your skin that hydration boost, and continue drinking plenty of water throughout your beach day.
2. Besides drinking plenty of water to keep your body and skin hydrated, using the proper skin care products can also help lock moisture into your skin. Consider adding extra moisture to your skincare routine the night before and the day of your beach trip to help guard against water loss and to keep your skin dewy and lush throughout the day.
3. If you happen to use medicated acne creams or use AHA and retinol treatments, it is recommended that you stop using these products for three days before your beach trip. The reason for this is that these kinds of products may make your skin more photosensitive, which will make your skin more sensitive to sun damage.
4. Having baby soft skin is often highly desired, and while you may want to have soft, hair-free skin on your beach day, lay off the wax. Waxing your skin before sun exposure can make you more vulnerable to sun damage since it exposes lower layers of skin that aren't ready for extreme sun exposure. So if you have to wax, don't do it within 24 hours of your beach day. Otherwise, stick with using a razor and sugar skin scrubs to achieve smooth, hair-free skin.
5. Apply sunscreen generously to help avoid sunburn at least 15 minutes before sun exposure. You don't want to cook your skin, which can lead to painful sunburns and can damage your skin, so be generous with the sunscreen to ensure good coverage. Ideally, it would be best if you used a broad-spectrum sunscreen that is at least 30 SPF. Sunscreen should be re-applied every two hours or so, and after you get out of the water, to help ensure your skin stays protected from the sun's damaging UV rays.